Industry Leading Features
Enjoy Complete Piece of Mind With our Professional Wireless Systems
Wireless Systems
Wireless alarm systems are now the preferred method for many home owners as require no interconnecting cabling between the devices and main control panel.
Battery Monitoring
Each two way wireless device battery is monitored and automatically conserves the actual detection power during periods when detection is not needed.
Smartphone Control
Remotely control your security system via the smartphone App and receive push notifications of any alarm triggers. Also re-arm or disarm your alarm while away from home.
Full Zone Control
Arm or disarm specific areas of your home, for instance, using special technology you can make individual rooms 'pet friendly' so your dog or cat won't trigger any false alarms.
How Does it Work?
The Pyronix Enforcer alarm system is fully operational from the moment the system is armed.
It uses advanced technology to preserve the battery life of each wireless devices connected and informs you when a battery needs replacing a month in advance.
You can arm and disarm the system using the keyfobs that comes with the kit or remotely using the Homecontrol+ mobile App available on Android and iOS.
The keyfob has four buttons that can be programmed for specific functions like show status, arm the system, disarm the system, panic alarm etc.
The coloured LEDs on the control panel indicates the security system status.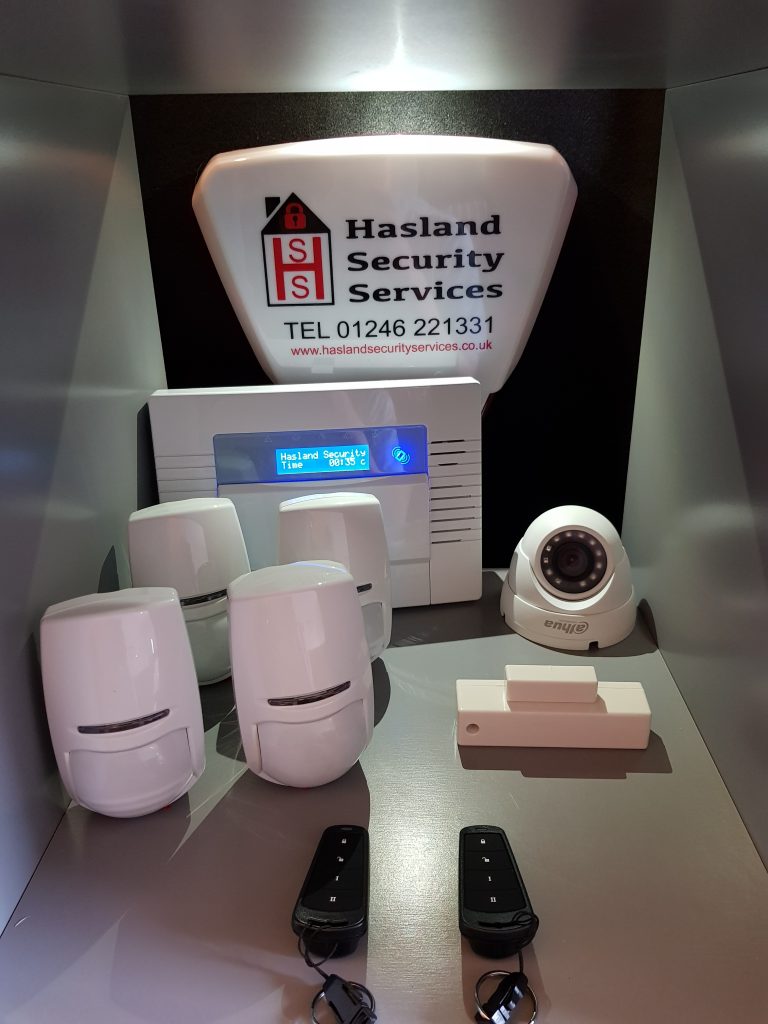 EN50131 Grade Two Wirefree System with Professional Installation & Support
Designed for home security and small business, we have a package to suit all needs.
Prices starting from £649.00, please call for our latest prices and offers.
Prices subject to the equipment requested and difficulty of the installation, call to arrange your free personalised quote.
All our installations come with a 2 year parts and labour guarantee
and a 3 year fixed price maintenance agreement.
Smartphone Connected Systems communicate via existing client broadband router.
Complete Security in the Palm of Your Hand
Control and monitor your Pyronix security system from anywhere in the world on your smart device.
Remote monitoring from anywhere in the world

IA:2015 Grade 2 and 3 compliant

Customisable push notifications

Connects through the PyronixCloud

Live monitoring with HD cameras

Simple arming of the system through intuitive user interface

Highly secure encryption

Downloadable on iOS and Android
Alarm Q's & A's
How does the monitored alarm work?
A Monitored Alarm System connects to an Alarm Receiving Centre (ARC) which is a remote central station manned 24 hours a day 365 days a year, via your telephone line or GPRS, Broadband. This permanent connection enables the alarm system to send signals as and when necessary to the ARC which in turns verifies the signals received and take appropriate actions. For instance if the alarm system detects an intrusion, it immediately sends an intruder signal to the ARC via its signalling path. Within seconds the ARC is able to verify the alarm signal and decide on appropriate course of action to alert you or one or more of your nominated keyholders and if necessary alert the Police via an agreed communication channel.
What is smartphone connection?
Smartphone connection provides a 24 hour safety measure so you can be in control 24/7 of your alarm from your smartphone through your WiFi connection at home. Allowing you to see who set/ unset or which room has been triggered in an alarm and reset on your app if necessary.
Can I have a house alarm that is not monitored?
YES. You can have a bells only alarm system.
Would I be able to set my burglar alarm at night?
YES. Your alarm allows for full setting, part setting and night setting. Typically, at night setting, you are free to move around at some area of your home such as upstairs whilst the ground floor is alarmed.
How long will it take to install my alarm?
It takes on average 4 hours to install a standard intruder alarm system with no mess.
Would an Intruder Alarm work with my Pets?
Through careful system design and professional installation the problem of pet and movement detectors can be overcome with Pet friendly sensors.
Would my wireless internet connection interfere with the wireless alarm?
NO. Your wireless alarm will utilise a narrow band radio channel which is exclusive for the security industry and as such unlikely to receive interference from your wireless internet connection.
Do you offer any guarantee on the alarm system?
YES. We provide 12 months minimum warranty.
Can I add extra sensors to my alarm package?
YES. Extra sensors can be added to your alarm package if required; at additional costs.
How soon can you install my burglar alarm?
Ideally within five working days; however we can consider a fast track installation in emergency circumstances.
Book Your Installation
Get your new Burglar Alarm System set up professionally with our installation service.